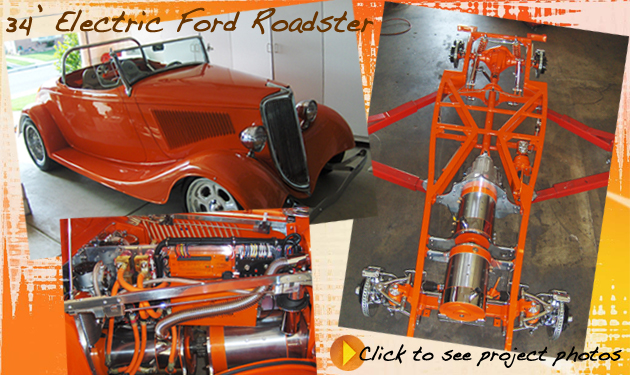 EV Consulting, Inc. is a part-time, newly formed consulting business as of April, 2008. The business came about after originally forming KTA Services back in 1984 which served the EV industry with DC hardware, systems, kits, and consulting until early 2008. Over the years KTA's components and tech support enabled hobbyists and others in 24 countries to create more than 1200 on-road electric cars, pickup trucks, motorcycles, and various racing vehicles. The technology also found its way into electric powered boats, submarines, aerial trams, parade floats, golf course mowers, amusement park rides, Battlebots, and special effects apparatus for the movie industry.
KTA Services is still alive and well and supporting the EV industry in a big way under its new owner, Mr. Wistar Rhoads. If you have need for an EV conversion kit or components, KTA can help you with outstanding service and support. (Please call 1.877.465.8238 in California, or see www.kta-ev.com.)
EV Consulting doesn't sell EV components, but, as the name implies, does engineering consulting only. This consulting is confined to conventional DC hardware such as series-wound motors, PWM controllers, and all of the other ancillary components that support a DC system. This does not mean brushless DC, nor does it mean AC systems – those are technologies unto their own which are quite different. An alternate name for EV Consulting might be "DC Solutions." In other words, we solve your problems, challenges, and transportation needs with DC hardware. Of particular interest are race car or other high-performance systems. Based on our years of EV experience and engineering expertise, here are some of the consulting services that we offer:
Answers to all of your EV questions by phone, fax, or e-mail
Detailed system or kit hardware quotations (see note below)
EV project review from a feasibility, electrical safety, or reliability standpoint
Engineering design
EV performance predictions, with graphs and recommendations
Our consulting services are available at $75 per hour in 6-minute (0.1 hr.) increments. If you employ our services to do a detailed system or kit hardware quotation, discounts are offered when you purchase through KTA.

Ken Koch's 34 Ford Roadster EV Project | Resources and Links | Technical Articles
Trains | Planes | Specialty Automobiles | Boats and Submarines | Home

© 2008-2013 EV Consulting, Inc.
Site Design by Chip Gribben - Digizone Designs